Interview with Dan Fogler in Atlanta, GA (2010)
by DebMac
I Like Dan Fogler
A lot, dammit. Step off.
I mean, I don't "like him-like him". I reserve that for the Marquette boy. But yeah, Dan's friggin' adorable and he cracks my sides all the way down.
(OK, full disclosure, I don't know why but I'm something of a mom magnet. I don't even know how it started, but I'm grateful for it. The Dorquettes owe our fabulous LA trip to Miss Tisha Marquette. We owe a great deal of what was wonderful about that trip to Jill Welch. And now I owe my latest adventure meeting Mr. Dan Fogler, to his lovely mom, Shari. And no, I didn't forget about you, Susan Markowitz. It has been an honor knowing you online and I really do hope to give you that hug in person someday. So thanks, Moms.)
Here's where I come from. My friends and I run www.chris-marquette.com. We typically follow Chris's films from the time we first learn about them. Fanboys was one of the first that we followed as a brand new website. We got incredibly lucky and met a bunch of people from the film. You can read all about it, beginning here.
Long story short (yeah, I know, too late), we love that movie. So we love Dan. Speaking for myself, he's my second favorite part of the movie. I like a lot of his other work too. I think he's really got the stuff. Something the world is starting to see…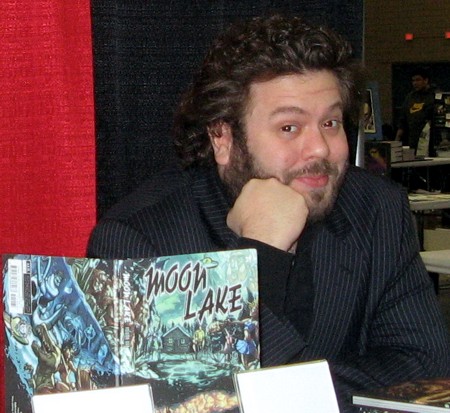 I'm pretty sure Dan Fogler was unthrilled to arrive in Hotlanta only to find bleak, dark skies and uncharacteristically freezing temperatures. But fun was still to be had at Wizard World Comic Con Atlanta 2010 on the first weekend of what has turned out to be a bitterly cold December in the southland.
Even the loud drunks at his M'larky screening couldn't dampen Dan's spirits. He simply made them part of the show. But that was just a warm-up. Next, he introduced us to the world of Moon Lake via the "Red-Headed Stepchild" (color) version of his film, Hysterical Psycho. The clever horror spoof plays the old chestnut of a group of folks stranded in a remote location getting picked off one-by-one mostly for laughs. But there are some real scares in there as well. And for an ultra-low budget movie, the FX were quite effective. A lot of love went into this project, and way more ideas than it could possibly hold.
Lucky for us, we have Dan's lush, hardcover graphic novel, Moon Lake  to carry on the adventure. It's kind of a companion piece, set in the same universe as the film. Dan calls it Twilight Zone on THC. I would say that's a pretty accurate description. It's funny, it's weird, and the art is jaw-dropping.
After the screenings that night, Dan went out to a local comedy club to perform some improv with his friend, actor Josh Warren, from M'Larky, who happens to be an Atlanta resident. He's nothing if not energetic.
Next day, he did the obligatory booth signings. Seeing so many fans approach him with Fanboys or Star Wars-related items to be autographed made me smile.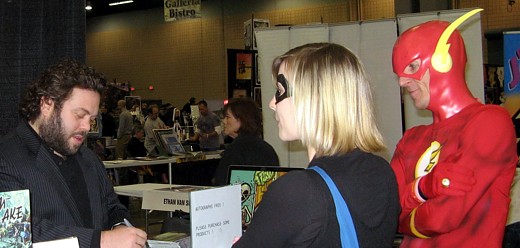 No matter what he does — for me — Dan will always be Harold "Hutch" Hutchinson, Pilot of Beucephalus, fanboy, lover of sweater yams.
He says that film is what he's most recognized for, along with Balls of Fury. And come on, who doesn't love Randy Daytona? Sure it's silly, but what a cast! And everyone seemed to be having such a great time. It's infectious. (A gifted impressionist, Fogler hit me with a flawless Walken during our interview. Listen for it.)
When we sat down that Saturday afternoon, following Dan's long day in his booth, I was treated to an enjoyable conversation with a genuinely nice guy. The highlight for me was when he talked candidly about the controversy surrounding the (mis)handling of Fanboys. Having been a small part of the fan uprising, I was delighted to learn of Dan's gratitude for the effort the fans put into getting the movie back in rightful hands.
We talked about his love for the stage and what winning a Tony (for Best Featured Actor Musical in "The 25th Annual Putnam County Spelling Bee.") meant to him. We discussed upcoming projects, how he channels his frenetic energy, and how people on IMDb can be so mean.
Filmography: http://www.imdb.com/name/nm0283945/
Dan has accumulated a shit-ton of credits in the dozen or so years he's been working. And the projects vary wildly. Though he seems to have a great affinity for broad comedy, he has also shown what some might find to be a surprising range. All you have to do is take a closer look. For me, it's the quieter moments that make Fogler so appealing.
Even when he channels Sam Kinison in his extraordinary Brother Sam screen test, it's the quiet Sam that I find so remarkable. I'm so glad I got to tell Dan that because I doubt he hears it enough. Sadly, that film seems no closer to getting off the ground.
See this remarkable footage for yourself:
Probably my favorite moment of his in Fanboys is the Death Star speech. It's really quite beautiful:
Steady work and decent paychecks are obviously something every actor needs and wants, but to me it's kind of a shame that Dan's mostly known for wild comedy. He's capable of so much more. You can see it in films like Love Happens.
Still, if doing that kind of work allows him the financial freedom to continue to pursue his own projects, yay comedy! This man is a tireless and passionate advocate of the DIY school of entertainment. He will always find ways to get his voice heard.
From the stand-up (or in this case sit-down) comedy of his early days…
The Greatest Star Trek Episode Ever (aka Shatner On The Toilet) – see Clip #4 at dan-fogler.com.
…to Broadway musicals, to films both comedic and dramatic, Dan Fogler's the real deal. This multi-talented entertainer's varied career is only just beginning to kick into high gear. I have no doubt whatsoever that he's going to around for a very long time.
In theaters now: Take Me Home Tonight and Mars Needs Moms
Atomic Tom – Don't You Want Me from Take Me Home Tonight, featuring Topher Grace, Anna Faris and Teresa Palmer:
Listen to my audio interview with Dan below or here: Dan Fogler Audio Interview
(Thank you, Thomas Sullivan for all your help at the con.)