or How We Met Chris And Some Of His Co-Stars On Their Home Turf
….. by TeeJay, Sisterdebmac & DomesticElephant
Imagine that you run a website on a young American actor. What do you think is one of the things you always dream about but don't imagine would ever happen? To meet the guy and hang out with him, right? But guess what, it does happen, and it happened to us. Deb and Tina had already been lucky enough to meet Chris before, and you can read all about it on our website. Maybe you already have—and if you haven't, we recommend you do so.Now the three of us have a new story to tell, so let us take you with us on our next Chris Marquette adventure.Somehow it had become a ritual that we'd do something special around Chris's birthday (Oct 3), and for the last two years, Tina had been visiting Deb in Atlanta. As it so happened, this year we were invited to spend some time in Los Angeles at the beginning of October. It sounded great, so we started looking into whether this could work out for all of us. It was when we heard that Michael Welch and Aaron Himelstein (Chris's co-stars from Joan of Arcadia) were going to be in a play together in September and October, that we knew we just had to go.Flights were booked and accommodation was arranged in the beautiful Marina del Rey area of Los Angeles. Deb flew in from Atlanta and Anne and Tina arrived from Germany a few hours later on a warm Wednesday evening. And thus started our little Joan of Arcadia Reunion.
The next day would be packed with excitement. Our friend Rick from the chris-marquette.com message board had invited us to a sound editing session for the TV show Bones, which two of his colleagues were working on. So we got in the car and navigated the confusing LA streets to the recording studio inside the CNN building in Hollywood where Rick was already waiting for us.
We were led to a huge sound editing room that had a movie theater-size screen in the front and a humongous mixing board where Terry O'Bright, Keith Rogers and Rob Nokes worked the knobs and switches, and their computers to add dialogue and sound effects to the show. It was fascinating to watch these guys work their magic, and it's amazing to see just how much work it is to make a TV show sound good. And we, the viewers, just take it for granted when we watch our shows. You wouldn't believe what a painstaking process it is to get all the dialogue and sound effects right. In the one hour we spent in the sound editing room, it was maybe five to ten minutes of the episode that were worked on.
Rick and the guys took the time to explain to us what they were doing and they just made it so much fun watching this process. They also showed us how they often put little in-jokes into the show that never make it to final airing. That was a hoot. Things got even more interesting when they asked if we wanted to record some dialogue for background noise for a scene inside the lab at the Jeffersonian. So Tina and Deb stepped up to the mic and they gave us an idea of what to improvise and we just did it. They said they couldn't even get actors to do it so smoothly on the first take! Then, they mixed it into the scene and we got to hear ourselves in the background before the actors start to talk. It probably won't be in the final episode, or if it is, it won't be as noticeable, but it was such a trippy thing to get to experience.
Thanks, guys! And because our friend Rick is too modest to post his own credits, here they are: www.imdb.com/name/nm0385923
The next order of business was something we felt very privileged to be invited to, which was a screening of the movie Fanboys. This movie means quite a lot to us, since we had been following it very closely ever since we heard about it in the spring of 2006. We had been in touch with crew and extras working on the movie, most important of all, director Kyle Newman. We had read snippets of the script and seen literally thousands of set stills. We were on the front lines when the whole cancer plot controversy and Stop Darth Weinstein campaign started. This movie was very dear to us.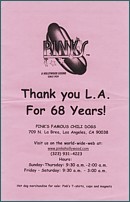 However, before we went out to Beverly Hills where the screening would be, our growing hunger had to be sated. So in true Hollywood fashion, we grabbed a hot dog at the famous Pink's. Of course we had to stand in line for about half an hour. But that's to be expected. We passed by the place a couple more times, over the course of our stay and it was just as packed at 10 PM and 1 AM as it was at prime lunch time. Deb spotted Mrs. Pink being interviewed that day on the back patio, a couple of tables over from us too. After a nice lunch, we made our way to the 150 Rodeo building where the private Fanboys screening was to be held.
It was in a small theater, that maybe sat about 70, and it was full. David Denman, who plays Eric's brother, Chaz, was in attendance. (He's really cute in person –Deb) We were hoping to meet and speak with Kyle Newman before the movie, but he didn't turn up.
No worries, we were too excited about finally seeing the movie to be too disappointed by that. We were right there, about to see this movie that we'd followed from the time it began shooting. And we were not disappointed. It's funny, touching, fast-paced and very satisfying. Not only Star Wars fans will love it, and fans of these actors will also love it. Chris was just terrific. And of course you've seen the pics, so you know he's adorable in it too. This compromised final cut is very successful. Linus's story is intact, and the few Brill-shot scenes that remain are actually pretty good. We noticed a few things that were missing, but since we've been assured that they will all be on the DVD, we're not too crushed.
Kyle showed up after the screening and he was mobbed by just about everyone who'd been in the theater. We spoke to him briefly, but there were too many people vying for his attention and we really didn't have a lot of time to stick around.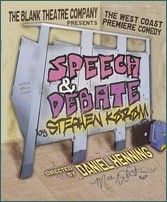 We had to be on our way to The Blank theatre where we were going to see Michael and Aaron's play, Speech and Debate. Tina had been in touch with Michael's mom, Jill online quite a lot and sweet and wonderful Jill had arranged for us to get comp tickets to the play. While we were waiting in the very small front room of the theater (you could even say it was tiny), we found out that the other lady waiting there with us was actually Jill's cousin, Selene. Terrific lady, mom of four. Deb had a really nice conversation with her. It was only ten minutes later that Jill joined us.
Jill was just wonderful, she has a whirlwind personality and, upon hearing that the show wasn't sold out that night because of the vice presidential debate on TV, she suggested taking a few tickets and going outside like on Broadway, inviting random passers-by to the play. Jill managed to convince the theatre people to go along with it and they told her she would get one more free ticket for every person she actually got to show up.
Deb and Tina volunteered to go with her and out we went. Jill immediately began asking everyone we passed in the streets to come to the play. She was even brazen enough to walk into the café of another theatre and ask if there was anyone there who wasn't already going to see a play. In the end, she managed to convince one young man to take a ticket, and he actually showed up. She spoke to him afterward and he said he enjoyed the show. You go, Jill!
The theatre itself was just as small as the front room, you actually had to go backstage to get to the restrooms. There were maybe 30 seats (I read that it's 49, but I don't see how –Deb) in the whole theatre, which gave it a very cool, cozy atmosphere. At seven minutes past 8 (as the guys behind us said was LA tradition) the play started, and the very first person on stage was Michael Welch, playing a gay kid in high school.
It's a fantastic show, very well acted, quite controversial, high-energy and fun to watch. Everyone did a great job and we had a really good time. All the actors gave excellent performances, and we were eager to meet with them afterwards to tell them we were very impressed.
As we stood outside the theatre, Aaron was the first to show up, sipping on a soda. As Anne put it, he was just suddenly there and the first words out of his mouth were. "Hello. Don't touch me. I'm very sick." We were supposed to go out with Mike and Aaron and Jill for dinner that night, but since all Aaron wanted was to go home and crash because he had a bad flu, we just had him sign the Joan of Arcadia group shot that we had picked to get everyone's signature on and everyone hustled him off to bed to recuperate. It's amazing that we never noticed during the play how awful he must have felt that night. He still did a great job, especially with the high-pitched singing.
Michael and Mae Whitman came out next, and Mike said hi to Selene and two other women who turned out to be agents interested in the play and the actors before he turned his attention to us. Jill introduced us and we hung around a while longer.
Deb got to talk to Mae for a few minutes. She mentioned how she'd been watching Mae on TV and in movies since Mae was just a little girl. They talked about her time on Chicago Hope and the episode she did with Haley Joel Osment (Deb's a big fan). Mae said she was still really close friends with Haley. And she told Deb a story about the episode in question, where she and Haley were stuck in an elevator with a dead body. Their characters were like 8 years old and the crew member who was playing the corpse kept sticking his hand out from under the sheet and grabbing at them.
When we told Mae that we run this website, she said she's also really good friends with Chris and that she'd just seen him a few days before. Apparently, she saw him again a couple of days later because Chris said on Monday that he'd seen her two days before. It's a small world, Hollywood.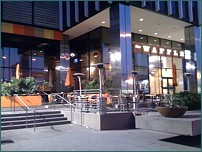 When Mike was done talking to everybody, he and Jill wanted to take us to The Waffle, an upscale diner on the ground floor of the ginormous House Of Blues building.
As it turns out, the manager, Marco, is an actor, and the owner is a producer and casting director. And the food was great. While Mike rode with Deb and Anne in the car to show them the way, Tina rode with Jill. It was hard to find parking, but in the end we all assembled at The Waffle, sitting outside in the mild October air to have dinner.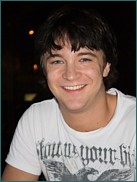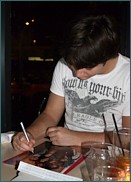 Poor Mike was really tired, but we still had a great conversation and a lot of fun that night. Jill told a few stories and we talked to Michael about the play and how he thought it went. He told us that he threw up beforehand because Aaron had brought in some liquid oregano that was supposed to be good for the throat. It was disgusting, Mike said, and it made him sick. We talked about some of his projects, and about politics. He's a big Obama supporter. In fact he has three Obama stickers on his black Prius. Tina and Anne talked with him about the differences between Germany and the US. We talked about the Internet, online fans and much, much more. Originally, we had planned to record an interview with Michael, but somehow it just wasn't the right place and time for that. It was too noisy and Mike was just too tired, so we contented ourselves with just talking to him and getting a few photos signed before we parted. Of course we got a few pictures taken with him as well. By the time we drove Mike back to his car, he looked like he was ready to pass out, the poor man. He did agree, however, to answer questions for us by e-mail later on, so we will definitely get these to him.
By the time we got home that night, our minds were reeling with everything we had experienced that day, and it was hard to believe that it would get better.
On Friday it was time for our road trip to San Francisco, where we would see Amber Tamblyn live at the opening night of the Litquake Festival, a big literature festival in San Francisco. Our plan was to drive up the Pacific Coast Highway to see the beautiful scenery, but unfortunately we took a wrong turn somewhere and ended up on an accidental tour through flower and cabbage farming country in Simi Valley. We didn't know we were lost yet when we stopped for a nice meal at a place called Grinders. When we realized it, we stopped at a Harley dealership and got direction from a beautiful woman who looked Native American. We lost two hours on this unexpected detour so we hopped on the 101 freeway and tried to get a move on.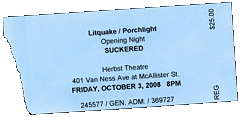 We were doing OK for a long time, but just outside San Francisco, we hit some horrible traffic that seemed to go on forever. We got to where we were going with no time to spare, and after a search found some valet parking. We were all a little high-strung from the time crunch. We practically ran through the drizzle to the Herbst Theatre to get our reserved tickets. Out of breath but relieved and excited that we had made it, we found vacant seats up on the balcony. We wrote out a message for Amber in the car and Tina managed to get it to someone named Liam who promised to give it to her before the show, so that she would know we were there. We hoped she would spend a bit of time with us afterwards. Liam found us during the break and told us Amber would be happy to meet with us after the show. Yay!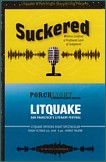 The theme of Litquake's opening night was Suckered, and they had different poets and authors come on stage to tell a 10-minute story that related to that theme. It was very much like stand-up comedy, and the stories that were told were funny but not of equal quality. Amber came on as one of the last artists. She told a very funny story about her appearance at the 10th Anniversary of The Vagina Monologues at the Superdome in New Orleans(!). She had us laughing and giggling more than once, and she was very much her quirky self.
When the show was over, we went downstairs to find Liam, who took us aside to a hallway, where Amber was already waiting for us. She gave all of us a hug and we held a bit of a small talk, her inquiring where we were from. Some of her first words to us were: "So, you've met my little brother?" (her alluding to Mike on Joan) Yes, we certainly did.
It was a bit unfortunate that Amber didn't have a lot of time, so we never managed to get the interview we had hoped for, but at a gig as big as this, it wasn't entirely unexpected that we would only be able to do the quick meet-and-greet.
Amber signed all our poetry books and the photos we had picked for her to autograph. And we got a few photos taken with her and us. Then off she went, but not before Tina could tell her how she loved that Amber was lobbying for the fact that you don't have to be anorexic to be cool. Amber proudly held up her arm and wiggled her only very mildly jiggly flesh. (I'd trade her! – Deb). It was a brief meeting, but still a memorable one. Plus, Amber also agreed to answer questions for us later that we'll should get to her online.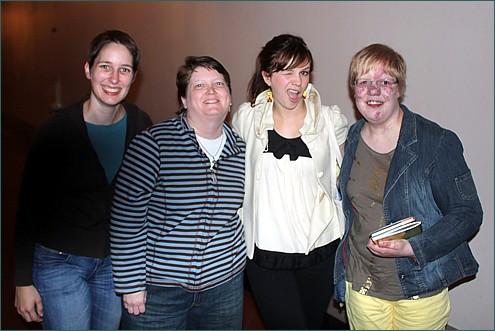 It was almost midnight by the time we got to Soya's place. Soya is a good friend of Tina's who is currently residing in San Francisco.
Finding parking was once again a nightmare, and it was now raining, but we were lucky to have Tina's friend Klaus from Germany (coincidentally also visiting the US) to follow us and drive us back with all our gear to Soya's. Let's just say we didn't park nearby. (We learned the next day that we'd parked in a load/unload only zone, so we were lucky we didn't get a ticket.) Happy but beyond exhausted, we crashed out, catching up on sleep for the long drive back the next day.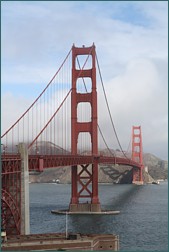 Before we left San Francisco, we had to see a bit of it. Anne wanted to photograph the Golden Gate Bridge, so we drove out there, with Soya as our guide, and sandwiches for a picnic. We got some great shots from both sides and ate looking out at this engineering marvel. Afterward, we headed back to drop Soya off, but took a side trip to drive down Lombard Street. Deb giggled the whole way down, enjoying the crazy, curvy brick-covered street like it was some kind of amusement park ride. We wished we'd had more time in the city by the bay, but we had to get back to LA.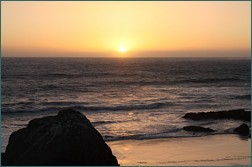 The landscape we didn't manage to see on Friday, we made up for on Saturday by taking the scenic route down the PCH. And stunning it was, we stopped a few times on the way to take photos and revel in the scenery. We drove through Monterey and Carmel By The Sea. We stopped for a meal at the beautiful River Inn in Big Sur. We witnessed a stunning sunset over the Pacific in San Simeon. We wished we had time to stop at Hearst Castle, but it was getting so late. Finally, at San Luis Obispo, we turned back onto the 101 freeway and booked it home uneventfully to Los Angeles.
On Sunday we slept in since we'd had a very long night and then did probably the most touristy thing of the whole trip: We sought out a good spot from which to view and photograph the Hollywood sign. Is that cheesy, or what? It took us a while to get out there and find what we were looking for, but in the end we snapped a few pictures and found a cute Mexican restaurant to have a ridiculously late lunch before going to see Becky Wahlstrom's musical Joe's Garage, written by Frank Zappa.
The Open Fist Theatre where it played wasn't all that big either, and since we were there early, we got seats in the front row. We felt like VIPs because the stage started right in front of row one. And it wasn't elevated, it was actually lower than our seats so we were right there, only a couple of feet from the action, almost within touching distance from the actors.
The musical was wonderful. The super-tight band rocked the house and the actors whirled across the stage to the wacky lyrics and energetic music. Everyone gave a great performance, and it was wonderful to see Becky dance and sing. Who knew she had such a fantastic singing voice? Be warned, though. If you wanna see the musical, it's really quite explicit. Definitely not PG.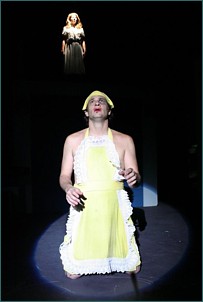 Deb was blown away by Jason Paige, who played Joe. He's got such a powerful singing voice and he's just darn cute. She also loved tall, lanky Ben Thomas—who looks like Chris Isaak with a beard.
It was too funny when Jason walked up into the seating area in row two and stood directly behind Tina, with his naked butt two inches from the back of her head. Eek! Anne and Tina also couldn't help but notice the lack of knowledge of the German language of the prop people. One of the songs in the musical was in German, and during the song, Joe carried a large book that said "Das Book von deutch". Dude, it is spelled "deutsch"! Tsk tsk tsk!
After the show, when Jason whisked past us, Deb stopped him and told him how much she loved the show and his performance. He couldn't help but give us all a hug at hearing that. Tina mentioned the German language prop mishap to him, too. He thought that was funny and said he would have to talk to the prop people, then asked how his German pronunciation was. Tina taught him how to say "Fick mich, du miserabler Hurensohn" in proper German. We better not translate that for you. If this was a CD cover, it would now have an Explicit Lyrics sticker on it. (Which is an ironic thing to say since Zappa went before the Senate to protest those warning labels. -Deb)
Before the show, we gave one of our business cards to someone at the front desk to hand to Becky, so she would know we made it to the show. We had been in touch with her before we went out to LA, so we hoped she was still aware of the fact that we were hoping to meet with her afterwards. And right on, after a five minute wait, she came out into the foyer and gave us a big smile. And she looked absolutely gorgeous.
We first went back to the stage because we thought we could maybe do the interview there, but since people were still hanging around, chatting, Becky took us backstage to the dressing room. While we walked past, she hollered, "Is everyone dressed, I'm bringing visitors!" Hey, we wouldn't have minded looking at a few more naked butts!
We set up our recording equipment and Deb started asking Becky the questions we had prepared. Becky was very animated and answered everything cheerfully and thoughtfully. We learned things about her that we never knew. We got a wonderful interview out of it and of course Becky signed a few pictures for us. It was kinda funny when some of Becky's co-stars were barging in every now and then, and upon realizing we were recording an interview, they'd say, "Oh, sorry, I didn't mean to interrupt." Hey, no worries, folks. That's what editing is for. Jason Paige went by and waved to us once.
After we were finished with the interview and the autographs, we went back to the stage where we took photos with Becky and had one of her co-stars take a picture of all four of us. (Useless trivia for you: Becky has the same digital camera Anne has.)
Becky invited us to hang out in the foyer of the theater to have a beer with everyone who was still around, which looked like pretty much the whole cast and band. But it was getting late and we weren't sure what time we'd heard from Chris the next day so we figured we should get back to the apartment and turn in. Plus we had some German chocolate for Becky in the car. She said he hated the American stuff, but that she looooved German chocolate. Smart woman. So we went back to the car and dropped Tina off at the corner to run back inside and find Becky. Someone had to go get her from backstage, and she accepted the caramel & fig and the cherry chocolate with a big smile on her face. It even warranted giving Tina a hug before she went back to join Deb and Anne in the car for the drive back to Marina del Rey. What a great night out!
The next day would be our big Marquette day. We had gotten in touch with Chris by e-mail before we went out to LA to see if he would be free to meet with us. Oct 6 had been arranged for us to have a "lunch date". In the morning, we were all waiting for that phone call from Chris to figure out when and where exactly we would be meeting. Of course Deb's phone had to ring when Deb was still asleep and Tina had just jumped into the shower. Anne was too nervous to answer it, so Tina was ripped from out of the shower to call back, wrapped in a towel and everything. Ahem. Really bad timing, dude!
Chris explained he would be in our area around 12, if that would work for us. Tina told him, "Sure," so we went ahead and did our morning routine. And for some reason everyone was really nervous. Which was kinda irrational, because Deb and Tina had met with him before and it really wasn't that big a deal. Was it? Well, a little nervousness was probably warranted, and we were pretty sure it would go away as soon as we set eyes on our man.
In the end our time coordination was a little out of whack, so Chris didn't meet with us until 2:30 PM. And he very sweetly agreed to pick us up at our apartment. Deb was really glad about that because we had been driving around in circles for the past few days and we weren't keen on ending up lost again when we had somewhere important to be. Chris called again and told us he was gonna come to the main entrance for us to meet him there, so on our way we went.
It was almost surreal to suddenly see him walking up the front stairs, greeting us with a hug. But that slight feeling of weirdness quickly vanished because he has a way of making you feel totally welcome and natural. It was all very casual from that moment on. We got into his car (black Cadillac CTS) and he drove us to a really cute French Café in Venice.
He treated us to quiche (Tina), salad (Anne) and fish soup (Deb), having the Quiche Lorraine himself. Outside, in the warm LA air, we got into an animated conversation. We talked about some of his new projects (he does a great Russian accent), about crazy people in LA (Chris did a few hilarious imitations of the "Running Man" and the crazy lady at his apartment building that he called "Crazy Nana Tutu Feet"), about how he used to pull pranks on his Joan of Arcadia co-stars (he told a story about him driving Michael Welch crazy with a giant 4-foot plastic pickle) and much more. We had such a lot of fun and laughed so much.
Deb asked if he knew anyplace where we could have some quiet to do our interview and he said we could go back to Oakwood and do it in the lobby. Deb immediately suggested going back to the apartment and he agreed without hesitation.
We got in his car again and drove back to the Oakwood. Luckily we had tidied the place up a little before, because somehow we had a feeling we might end up back there with Chris. Good instincts! We all sat down around the table and set up our recording equipment and Deb got out the index cards with our questions. Chris was very attentive and we talked about things that were contemplative, things that were thought-provoking, things that were informative and things that were just plain funny. A few questions made him think, some made him relive a funny moment or some just got him into talking about himself and his view on things. It was fascinating to watch and listen to him just being himself and not a character on the screen.
After an amazing 90 minutes of asking and answering questions, we finally went over to the rewarding part, at least for Chris. Anne and Tina had brought a lot of goodies from Germany to give to him, so we started drawing all sorts of magic things out of our hats (or plastic bags, actually). Chris's eyes grew wider with every piece of chocolate and sweets that we gave him. And he was strictly instructed to share them with his brothers and friends.
The highlight, though, was when we gave him his birthday presents, but not before we had given him another hug to wish him a Happy (belated) Birthday in person. The first present was our beautiful birthday card that some of our message board members had taken part in by supplying photos with letters that, pieced together, would spell out the words "Happy Birthday!" Chris was amazed by the card, he looked at every picture and read every message very carefully.
Our other present was something that Anne, Deb and Tina had put together with great care. We had chosen a beautiful Paperblanks notebook with lined paper that had a letter from Rodin to Rilke on the front cover. Inside the notebook we had inserted pages with some of Tina's black and white photography that had handwritten quotes with them from people that we were aware Chris loved or knew in person. He couldn't believe we had put together such a loving present for him. He read every quote and he got very quiet and pensive and told us, "Thank you so much, you guys are gonna make me cry."
Last but not least, Tina gave him a little surprise present, and we were all curious how he'd react. In 2004 or 2005 Chris had done a voiceover for a Chinese animated movie called Thru The Moebius Strip. The movie has never been released in theaters and until recently was only available as Chinese language version in Asia. However, the movie is now available on DVD in English, but for some strange reason only in the Netherlands. Tina had managed to buy a copy on the Dutch eBay and had converted it to NTSC frame rate so that it would viewable on US DVD players.
We all guessed Chris might not have seen the whole movie, so Tina had made him a copy. When he unwrapped it, the surprise was all over his face. He was,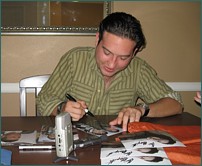 "Are you serious?! No way! I've never seen anything! I thought for the rest of my life I would never see this movie."
Chris was really blown away by all that we gave him. He said he'd get the most insane sugar rush from all the chocolate and sweets. Haha, don't we know it! We finished off our wonderful, unforgettable meeting with him signing some (okay, a lot of) pictures for us and other people.
When the autograph session came to an end, Anne finally did what she always wanted to do ever since she had seen The Tic Code for the first time. She was able to show him the German DVD cover and tell him how much she loved the movie, since she was born with Sturge-Weber-Syndrome. One of the symptoms of it are port stain birthmarks all over her face (among other things), so she knows what it feels like to be stared at and being called a weirdo, just like Chris's character in the movie who suffered from Tourette-Syndrome. Chris was really touched by what Anne told him and thanked her warmly before he signed her DVD. That was certainly Anne's greatest moment of the whole trip and it made her very proud that she finally got the chance to tell him in person.
Of course we got photos of him and us taken too (and thank goodness for the autotimer function). Then it was time for Chris to go, but not before he had thanked us again and given us all a big hug. Deb walked him back to the car while Anne and Tina waved him goodbye from our apartment door.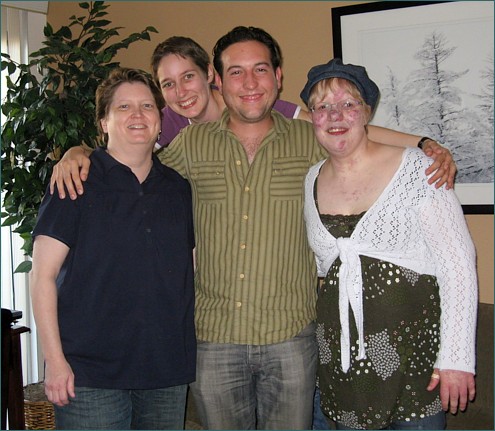 Deb and Chris talked along the way to the parking deck about what a maze Oakwood was and how he couldn't find his way around the place when his mom had lived there. When Deb left him near his car he gave her another hug and he said, "Thank you so much for everything."
After Chris was gone, we didn't even really have time to reflect on everything as we rushed out to an outlet mall in Commerce to get some shopping done. Our schedule had been so packed that we hadn't had time to do much of anything except meet our people. Of course in the car all we talked about was the fantastic afternoon we still couldn't believe we had experienced. It's something we won't ever forget, and it really topped off the already amazing, wonderful, unbelievable week we'd spent in California.
We couldn't believe the timing had worked out so perfectly. Deb was flying back home to Atlanta the next day, Anne and Tina would be staying a day longer before flying back to Germany, which would give them another opportunity to meet Jill Welch, who had generously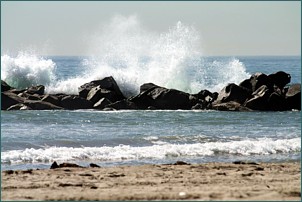 offered to take the girls to the airport on Wednesday morning (since Deb was the one with the rental car).
It was a little sad to see Deb leave on Tuesday morning, we couldn't believe our week together was already over. We all said our goodbyes and Anne and Tina used the last day to take a bus to Venice Beach and take a stroll along the crazy boardwalk and get a whiff of ocean breeze.
Jill picked us up the next morning and we had a late breakfast at a café on Washington Boulevard. Over pancakes and muffins we told Jill all our adventures and listened to some more of her stories about her family and being a stage mom. That woman really has relentless energy! At the airport, we said goodbye to Jill and thanked her again for the great time and all she had done for us. We assured her that we were intent on coming back to LA s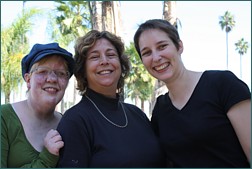 ome day soon.
By the time we sat cramped in our plane seats, we realized it was really over. An amazing week had come to an end and very soon we would be going back to our normal lives. What an anticlimax. But still, we have so many memories to hold on to and so many photos and recordings to take home that will sustain us for a long time to come.
What's left to say is: A million thanks. A million thanks to everyone who made it all possible: Chris, Michael, Jill, Becky, Amber, Aaron, Kyle, Rick, Soya, Klaus, Larry, Chris (he deserves at least two mentions), the universe and whomever we might have forgotten to name who should be on that list. We wanna hug you all. Thank you for making last week one of the most remarkable weeks of our lives!
Photos of the Joan of Arcadia cast we met
Photos of our meeting and interview with Chris
More talk about our trip to LA on the message board