Christopher George Rodriguez Marquette was born on October 3, 1984 in Stuart, FL and, starting out in the acting business incredibly young, has built an impressive track record in film and television. He took his first steps in the entertainment industry at just four years of age, modeling and doing commercials. Back then, he and his family lived in Texas.
Chris has said that he didn't really see acting as a career choice when he was young. It was more like sports—just something to have fun with and enjoy doing. His parents supported him all the way. In an interview he once said that he'd have to take his parents' word that he always wanted to be an actor. "I started acting when I was four. I went with a friend who was auditioning and I came home ranting and raving about it. So my mom put me in acting and I liked it. My first job was a J.C. Penney ad." He was cast in the children's series Barney but was let go shortly thereafter because he was thought to be too shy.
When Chris was eight years old, his family moved to New Jersey and he began working in theatre, appearing on Broadway in the play An Inspector Calls, and also playing Tiny Tim in A Christmas Carol. While in New York, he appeared on Saturday Night Live a few times. In 1996 he made his big screen debut in the movie Sweet Nothing, which also featured his younger brother Sean.
In 1999, Chris turned in an amazing performance as Miles Caraday in the feature film The Tic Code. His dedication to portraying a boy with Tourette's Syndrome who is also a piano prodigy was stunning for a fourteen-year-old actor. He developed the character by meeting and studying people and children with Tourette's. And for the piano playing, he admits, "I only learned a couple of songs. Otherwise I didn't really learn how to play the piano. The character is a prodigy whose skill is beyond what I could learn in a month." But he did a magnificent job of faking it. His brilliant performance alongside Polly Draper and Gregory Hines won him the Giffoni Children's Film Festival prize for Best Actor in Italy, deservedly so. Chris himself said he was very proud of this role and this movie, and he hopes to have the chance to return to making these kinds of emotionally impactful, dramatic films in the future.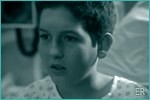 >In terms of TV shows, Chris has done his fair share of guest appearances on shows such as Beverly Hills 90201, ER, Touched By An Angel (twice in different roles) and Judging Amy. He did a year on the soap Another World and he had recurring roles in Aliens In The Family and Pasadena.
He essayed the long-running part of Marc Delgado on the popular Lifetime series, Strong Medicine. He started out on the show in 2000 at the age of 16 (playing 13), and anyone who followed the series over its six seasons watched him grow from a precocious brat into a fine young man by the time the show ended in 2005.
More roles on the silver screen followed. In 2003, he played nerdy Charlie Linderman in the horror flick Freddy vs. Jason, and in 2004 he stole the show as porn-obsessed Eli Brooks in the comedy The Girl Next Door. Chris landed his breakout role, playing Adam Rove in the TV show Joan of Arcadia in 2003.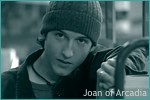 He played the shy and soft-spoken young artist and love interest of the show's main character Joan Girardi in every episode except the pilot. Over the show's two seasons, he touched many hearts with his off-beat charm and sensitivity. Chris has said that playing Adam Rove was something he did not only think of as a mere job: "That was one of the shows I was more involved in in my heart than anything else."
Not only has he opted for roles in big features, Chris has also worked in independent films and low-budget shorts such as Sugar Mountain (directed by his Joan of Arcadia co-star Aaron Himelstein) and another short called Fellowship. Chris has said he feels that independent films offer much more freedom than studio films because there is more room for improvising and bringing in new, creative elements.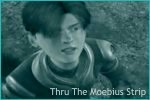 Chris has lent his voice to animated films as well, among others playing young Jac Weir in the CGI feature, Thru The Moebius Strip, which has not been released in theaters but is available on DVD in Asia and the Netherlands. After the unceremonious cancellation of Joan of Arcadia in 2005, Chris decided to concentrate on working in film. "I'm not one of those actors who has a problem with TV, who considers himself above TV or anything like that, but with movies, you can just move on to so many different things. I want to do it all."
About working long-term on a TV show, he says, "It's just one of those things of 'Well, this is it'. I'm doing my job, it's not challenging anymore, it's easy. If my job's easy, I feel like I'm not doing my job. So it's a hard commitment to make." Chris feels that with working in movies, there is a lot more range to explore in a shorter period of time, something he has lived ever since he involuntarily left Joan of Arcadia behind. He has an impressive list of upcoming projects. (Fans of TV need not worry, he conceded that the occasional guest role is not out of the question.)
Four movies have made it to theatrical release—Nick Cassavetes' Alpha Dog, David Goyer's The Invisible, the slap-sticky comedy Just Friends (with Ryan Reynolds and Amy Smart) and Aric Avellino's American Gun, a documentary-style drama about the effects of gun violence in American society. In the role of David Huttenson, Chris had the opportunity to play alongside Marcia Gay Harden, whom he worked with again on the remake of the Swedish thriller, The Invisible.
Out of his more recent productions, Chris said he is proud of his performance in Alpha Dog, a gritty, violent movie about the life of Jesse James Hollywood, co-starring Emile Hirsch. Also on the horizon is Fanboys, a road movie-like comedy about five die-hard Star Wars fans who travel cross country to grant their terminally-ill friend his last dying wish—to see Episode I before he passes. The nationwide US release is planned for 2008.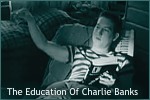 He has also completed The Education Of Charlie Banks, an independent movie directed by Limp Bizkit front man, Fred Durst, which premiered at the 2007 Tribeca Film Festival. And in spring 2006 he shot the movie Remember The Daze (formerly The Beautiful Ordinary), which gave him the chance to hook up with his former Joan of Arcadia co-star Michael Welch. Interestingly, Chris's younger brother Sean will also appear in this movie. About the role we are going to see him in, Chris volunteered in an interview: "The Beautiful Ordinary is a completely different character than I ever played. I play almost a crackhead. I play this guy who's all over the place, he's really wiry, and he's constantly smoking a ton of drugs." Remember The Daze premiered at the 2007 LA Film Festival, still going by the name of The Beautiful Ordinary.
As his career progressed, Chris played the lead in the comedic action horror movie Infestation, which was produced by Icon Productions. Writer and director is Kyle Rankin. The movie was shot in Bulgaria in summer 2007, and in 2009 it went straight to DVD. What's interesting is that in an interview in 2006 he talked about whom he'd like to play in the future. Part of his reply was, "And, like, a superhero. Yeah, yeah, I'd like to play a superhero too." And here he very much had his opportunity, even though Cooper Flynn might not be your typical superhero.
In spring 2008 Chris shot a big budget action movie alongside Dwayne Johnson, Ciarán Hinds and Tom Everett Scott that was released in 2009, called Race to Witch Mountain. Says Chris, "Witch Mountain has been interesting, because it's by far the biggest budget movie I've ever worked on. So they spare no expense. And when you work a lot in independent films, this project is a bit of a shock. It's awesome. Andy Fickman runs a really entertaining set, and all the actors are great. Ciarán Hinds, Tom Everett Scott and Billy Brown and I basically sit around for hours, […] and then we get called to work for a few minutes at the end of the day in some crazy shot where we are running down a smoke filled hallway with sixty SWAT team guys behind us while explosions are heard everywhere. So it's always an exciting day at work."
In 2009 Chris was said to be playing the lead in a movie about Nate Norman, a 19-year-old pizza delivery boy who became somewhat of a small town drug lord, making $38 million by smuggling cannabis from Canada to the US. The movie was called Kid Cannabis. Unfortunately, the production was put on hold before it even began filming and was finally cancelled. He scored a few smaller roles in silver screen productions such as The Rite (starring Anthony Hopkins) or The Double (starring Richard Gere) in 2011 and also had a few guest spots on acclaimed TV shows such as Criminal Minds (together with Joan of Arcadia co-star Michael Welch) or House M.D., where he reunited with yet another Joan of Arcadia co-star, Amber Tamblyn.
Over the past decade or so, Chris has worked on a number of different projects, including independent movies such as Thule, The Odd Way Home, Broken Horses, Night of the Living Deb, I Hate The Man In My Basement and the really sweet, heartwarming Parker's Anchor. He's also guest-starred in an number of TV shows, among them Barry, The Fugitive and Magnum P.I.
Chris hasn't only been acting, particularly in recent years he's participated in smaller side projects, such as writing and producing short films and mini-series with friends. He annnounced an upcoming webseries in November 2022 and in October 2020, he started recording and publishing a weekly podcast with his best friend A.J. Trauth, called The Coogan Chronicles. Chris and AJ talk to former child actors and interview them on what it was like growing up in the business and how that affected their adult life, also sharing their own stories of what it was like for them. The podcast is available on a lot of the major podcasting platforms.
Many of Chris's fans appreciate him for his versatility. He's known to excel at portraying tragic and conflicted characters like David Huttenson in American Gun or Travis Prescott in an episode of the TV show Miracles. He often demonstrates his ability to cry at the drop of a hat in these roles. At the other end of the spectrum, he has great comedic timing and an adorable rubber face which you can see in movies such as The Girl Next Door and Just Friends. He says he prefers drama, but enjoys doing comedy a lot, and finds dark comedy especially challenging.
As for roles he would like to play in the future, he would love to portray Bob Dylan or Fidel Castro ("…when I'm, like, fifty years old," he admits with a chuckle). So far, Nick Cassavetes (director of Alpha Dog) is the person Chris has most enjoyed working with. He says, "If I could just do his movies for the rest of my life, I'd be happy. He's the best actor's director I've ever worked with, by a long shot."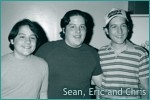 Chris has two younger brothers, Eric and Sean, the latter also an actor. Chris and Sean have been in productions together when they were younger, but Chris recalls working with Sean recently on Remember The Daze as a great experience, seeing his brother having matured into a talented young actor.
Chris currently resides with his family in Los Angeles when he's not traveling around the world. He loves playing soccer, Charlie Chaplin movies and eating at Taco Bell. He doesn't like that the network tried to turn Joan of Arcadia into The O.C. and, in his own words, he never used to watch a lot of TV. "I don't even have cable," he once said in an interview.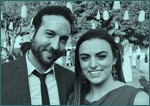 In 2019, Chris married Irish actress Nora-Jane Noone, with whom he co-starred in the movie I Hate The Man In My Basement. They have a beautiful daughter who was born in January 2020.
If you would like to know more about the different movies or TV shows Chris has done, go to the Filmography page and read our synopses about them. You can see a little bit of Chris in action in the Media section. There's photos and screencaps of his various performances in the Image Gallery.