or How Chris Teaches You That Different Is Normal, Too
….. by DomesticElephant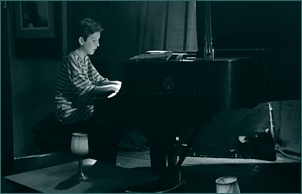 The Plot
Miles is a 12-year-old jazz piano prodigy with Tourette's Syndrome. His attentive mom, Laura just wants her son to be happy. She arranges for him to meet his hero, saxophonist Tyrone, who also has Tourette's. He helps Miles to find his place in the world.
The Character
Miles Caraday. He's the little boy who needs his own piano.
The Likes
First of all: Miles, of course. He is as talented at playing the piano as Chris is at playing Miles. There's also a lot to like about Miles' mom, Laura and of course Tyrone Pike, Miles' idol.
The Dislikes
Miles' Dad, because he doesn't accept Miles the way he is. And Miles' always annoying teacher, Ms. Gimpole.
The Moments
I love the scene with Miles and Tyrone at the pier at the end of the movie. And Miles' comedic talents are just funny. Oh, and the "Miles, can I date your mom?" scene in the toilet also has its funny moments. LOL
The Quotes
There is one quote I find very impressive. Miles and his friend Todd are on their way home, and Todd asks Miles why his dad left his mom and Miles answers with, "I got weird." So he thinks he is the reason his parents are not together anymore and he still wants his father to love and accept him.
The Co-Stars
Gregory Hines as Tyrone Pike and Polly Draper, who also wrote and produced the movie, which is based on her husband's life, who also suffers from Tourette Syndrome.
The DVD
There are no extras on the German DVD other than the original trailer and image/text information about the cast.
The Rest
This movie is a wonderful example that being different isn't that bad at all. The movie features music from Thelonious Monk, Wayne Shorter, Michael Wolff and Cannonball Adderly. Also, Chris received the Best Actor prize at the Giffoni Film Festival in Italy for his exceptional performance as Miles Caraday.
The Links
We have vidcaps of Chris's The Tic Code appearance in the Media section.
More information about Tourette-Syndrome.