or How Chris Possibly Makes A Good Guido
….. by TeeJay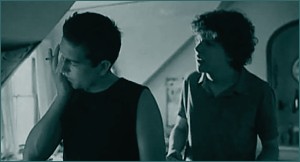 The Plot
The SEVENTIES: When New York was still the greatest, dirtiest, most conflicted city in the world.
At 16, socially responsible upper west-sider CHARLIE BANKS (Jesse Eisenberg) witnesses charismatic blue collar sociopath MICK LEARY (Jason Ritter), 18, brutally beat two unwitting suburban jocks at a high school party. Mick's a west village neighborhood buddy of Charlie's best friend but Charlie's conscience gets the better of him. Telling only his parents, he reports Mick to the police.
Three years later, during his freshman year in college, Mick shows up for a visit. Does Mick know he was the one who ratted him out?
Mick's visit stretches past the weekend and Mick and Charlie begin a game of cat and mouse. Nice one moment, and threatening the next, Mick keeps Charlie guessing. But Mick also begins a strange course of assimilation, donning borrowed cashmere from and reading Charlie's books and auditing his classes.  Soon Charlie begins to wonder if the intellectual caress of higher education can redeem even someone seemingly as far gone as Mick…
Source: www.charliebanksmovie.com
From early childhood, Mick is a bully both feared and admired by Charlie. Their mutual friend Danny is less ambiguous in his admiration. Six years later, witnessing Mick's savage beating of a couple of suburban teenagers at a party, Charlie secretly reports it to the police, then, under pressure, changes his mind and refuses to testify, a moral disappointment to his father. In another three years he and Danny are in college together, where they socialize too much with a crowd of the rich and spoiled and where inexplicably Mick turns up for an unauthorized, extended stay, insinuating himself into their lives and their crowd, putting moves on the girl Charlie aspires too, exhibiting flashes of his old violence, and in general ratcheting up the tension. Mick's charm wins him friends and forgiveness, and his professed desire to reform seems sincere but he cannot control his demons. At heart he's a thug. Can women understand it? Can Danny and Charlie come finally to terms with it?
Source: www.moviesonexchange.com
The Character
Danny Bowen. No one can tell us better than Chris himself what Danny's gonna be like:
"The Education of Charlie Banks is totally different. I play like this Guido New York guy who thinks he's a real badass. You know, just thinks he's really tough. And it takes place in the 80's, so I had to wear all these tight [clothes], like, the white jeans and all this crazy stuff and I look like I'm a big fan of the Ramones. But it's cool. It's really good."
There's also a snippet from the pe.com article linked above that mentions Chris and his role:
The scenes shot the day before are set in Charlie's dorm room, where he finds Mick. Jesse Eisenberg, who was the older boy in the film "The Squid and the Whale," is Charlie; Jason Ritter, son of the late actor John Ritter, is Mick, and Chris Marquette, seated on a chair with 2-inch-tall blocks under each leg to better bring him into the scene, is Charlie's longtime best friend and college roommate.
The DVD
The DVD's only special features are an audio commentary with Fred Durst and Jason Ritter (which I have not looked at yet) and Conversations Behind The Education of Charlie Banks, which is basically like a Making Of where some of the cast is interviewed. Chris is not in the bonus features.
The Links
….. Stills and screencaps from the movie
….. Discussion about the movie on the message board