or How To Accept You're Never Going To See This Film
….. by TeeJay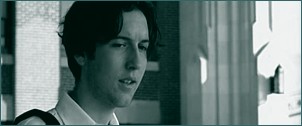 The Plot
All we know about this short film is bits and pieces, some of which I will try to put together for you:
Jude (Luke Eberl), a now 17-year-old boy who underwent gender-resassignment surgery ten years ago (forced upon him by his father), is still traumatized by having been turned from girl to boy at such a young age. He feels alienated and alone and can't help but relive his childhood memories. As his 18th birthday approaches, he decides to reach out to a long lost friend whom he had a pre-adolescent crush on.
The Character
Harvey. We don't really know anything about him other than that he's the childhood friend that Jude tries to reconnect with.
The Co-Stars
This short film was written and directed by Aaron Himelstein, one of Chris's good friends and former co-stars, because Aaron played Friedman on Joan of Arcadia. Chris also knows Luke Eberl (who plays Jude) very well and participated in a short film Luke wrote and directed in 2005, called Fellowship.