or The Last Time You Might Have Seen Chris Play A Nerd
….. by Sisterdebmac and TeeJay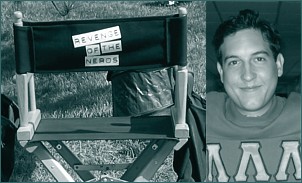 The Plot
Even though the movie has now been cancelled even before it finished shooting and we're never going to see it, we're going to keep the info on it up here because we met Chris and director Kyle Newman on set and maybe some of you would like to read what it might have become if it had been meant to be. Here's a short synopsis to start with:
This is an R-rated remake of the 1984 college comedy in which the nerds take revenge on the football players who've repeatedly humiliated them. A raucous re-imagining of the comedy classic. Adams College is turned upside down by a group of freshmen misfits who redefine the term "nerd." As they try to form their own frat, the nerds incur the wrath of the ultimate alpha males, the infamous Alpha Beta fraternity. The nerds refuse to go down without a fight, waging an all-out battle against the notorious jocks during Greek Week.
Source: www.ioncinema.com
The Character
Max Foster. The head nerd and leader of the Lambda Lambda Lambda nerd fraternity. Character-wise, not a lot was revealed to us. Visually, Chris had a little nerdy lock in the front, no face fuzz (yay!) and a casual jeans and t-shirt look. To make him a little more nerdy, he wore a pair of wire-rimmed glasses and a cheap plastic watch.
At least this is the look he was gonna have at a later point in the movie, probably some time in the last third of it. Might be that he looked a lot nerdier in the beginning and kinda matures into a cooler guy, appearance-wise. Guess we'll never know now.
The Trivia
Deb and TeeJay were lucky enough to get to meet Chris on the set while he was shooting this movie in Atlanta, GA. Chris told us that after this movie, he will not play a nerd ever again. Well, let's just see about that. ;o)
Notable is also that this was not the first time Chris was working together with Kyle Newman. In early 2006, Chris played Linus in the movie Fanboys, which will be released on April 20, 2007. Fanboys was directed by Kyle Newman and written by Adam F. Goldberg, who also wrote Revenge of the Nerds.
At the beginning of November, production on ROTN was put on hold because of problems with one of their principal locations, Emory University in Atlanta, GA. By the end of November, it was announced that production was cancelled for good because they couldn't pay a whole film crew for weeks and didn't manage to find an alternative location in time.
Source: www.hollywoodreporter.com
---
To check out more about how and where and why we met Chris in person, here's a whole bunch of material for you to check out:
….. Photos from the visit to the set
….. Read the whole story of our visit to the set and meeting Chris in person
….. Read some more about the visit to the set on the message board
….. Read the 40-minute interview that Chris gave us
….. Listen to sound clips of the interview