or How Far Would You Go For A Movie?
….. by TeeJay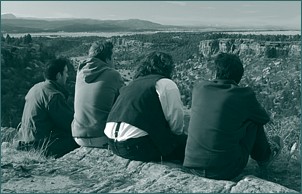 The Plot
"Dude, this was never about the movie. It was about us."  —Linus
It's the Halloween party they've all been waiting for, to have fun with friends and hang out with fellow Star Wars fans and partners in crime. However, events take a turn when one of their bunch who long ago outgrew his old gang and took on adult responsibilities is suddenly in their midst again. Reconnecting is not easy. But soon, Eric, Windows, Hutch and Zoe realize that Linus will not live long enough to experience what's been on their minds for ages: The long-awaited theatrical release of Star Wars – Episode I, which is still several months away. Linus once again suggests to his friends what he's been scheming since fifth grade: Breaking into Skywalker Ranch, this time to steal a print of the movie. Crazy, right? But it might be the only way for Linus to see the movie before he dies. So as insane as it sounds, they take Hutch's van and embark on a mission to drive across half the country to the Ranch.
That's the basic premise of the movie Fanboys, by Kyle Newman (director) and Adam F. Goldberg (screenwriter), which was shot between February and April 2006 in New Mexico. It may at first sound a bit trivial and maybe even a little cheesy, but the things that have been said about it suggest that you shouldn't let yourself be fooled by the simplistic-sounding plot. There's a bit of comedy, a bit of road movie, a bit of drama; overall it sounds like a great blend of elements that will invite not only Star Wars and sci-fi fans to the theaters, but everyone else as well.
The original script for this movie was first pitched in 1999, originally written by Ernest Cline (who will also appear in the movie). Goldberg's version surfaced in 2003. Three years later, it was finally shot as a low-budget movie with the powerful backing of Kevin Spacey's TriggerStreet Productions. Author Adam Goldberg and director Kyle Newman both describe it as "a film by the fans, made for the fans", so there should be no doubt that this will not make a mockery of the Star Wars or sci-fi community. Unless you're a Trekkie, and then all bets are off.
The fanboys are played by Sam Huntington (Eric Bottler), Jay Baruchel (Windows-thusly named not for the operating system but for the thickness of his glasses), Dan Fogler (Joe "Hutch" Hutchinson), Chris Marquette (Linus Poonwah) and Kristen Bell (Zoe). Of course these guys make stops on their way to their ultimate destination, most prominently in Iowa to visit Captain Kirk's future birthplace and in Austin, TX , where they meet up with one of Windows' online friends. In Las Vegas, NV a meeting with an anonymous informant is arranged who will supply them with blueprints of the Skywalker Ranch. Furthermore there are run-ins with the law and a meeting with a native shaman. Whether they actually manage to reach their destination and make Linus's last dying wish come true remains to be seen.
If you enjoy cameos, you'll have a lot of fun with this movie. Well-known actors and actresses such as William Shatner (Captain Kirk, himself), Carrie Fisher (Princess Leia in Episode IV thru VI), Danny Trejo (From Dusk Til Dawn, Desperados), Billy Dee Williams, William Katt (The Greatest American Hero) and Ray Park (Darth Maul, Toad from X-Men) all pop up in the film. For all you Freaks and Geeks fans, Seth Rogen will appear in the movie in three different roles.
All in all, this sounds like a very entertaining movie with a powerful message: What's more loving than taking on the impossible just to try make the dying wish of a cherished friend come true before it's too late? You will most definitely laugh and you might even cry. But overall, I have the notion that you will walk out of this movie with a good feeling and a hopeful smile on your lips.
Described as a screwball comedy with heart and soul, Fanboys will have you laughing one minute and sniffling back tears the next. You are in for a real treat—on many levels.
In an iesb.net interview Kyle Newman himself said this about the movie and its message:
"I think the bigger Star Wars fan you are, the more there is in there for you. Like a Simpsons episode, it's jam-packed with stuff. And if you're not, everything still works. And that was my goal, to make a movie that just works on the surface, and it works comedically and emotionally to people who aren't Star Wars fans, but the more you're into it, and the more you're looking for it, you're, 'That's kinda like that,' or, 'That's like that," or, 'That feels like that.'
"And it is a coming of age story, even though they're in their twenties. But I think twenties is the new, you know, sixteen. And it has that Goonies-like spirit, they're kids, in a way. It's this age of innocence. It didn't matter what the movie was, it just mattered that there was hope of a new movie, and that's what it's about.
"It's not about Star Wars. Who cares about Episode I? It's not about Episode I. It's not about any of that. It's about something much deeper and bigger, so I think when people leave there, I just want people- Ultimately you feel good. It's got a tragic ending, but it's also bittersweet and it's because of that all the other characters you love have their life put back on track and things are gonna be okay. So it's still kinda uplifting, but you get through some rough spots to get there. Ultimately I want people to… just to feel like a good ride."
The Character
Linus Poonwah. No joke, his last name is Poonwah. Or at least that's what we've been told.
And, yes, he has terminal cancer. It is not specified what kind. Kyle Newman told us they kept that vague on purpose, to not distract people from what the movie is all about with medical technobabble. Linus will be the emotional center of the plot, the person closest to him being his friend Eric, who's been a little out of touch with the whole circle of friends and the Star Wars fandom. The whole Eric/Linus dynamic is something that Kyle Newman wanted to put some focus on, which he himself talked about in an interview over at iesb.net. This is what Kyle said about the characters, in particular Eric and Linus:
"It was also something else deeper I wanted where [Eric] had these dreams that he wanted to be something else, and his best friend sees right through it. Linus, who's dying, he calls him on it. And it's really about everybody getting on the right track with their life, and finding equilibrium. Because Hutch and Windows are… they're big kids. Windows owns a comic book store. Hutch lives in his mom's garage and he has this massive collection. And he's got these dreams what he wants to do with his life, but he doesn't because their heads are in the clouds. And Eric's character is also way too serious, he's given up on everything because he feels he has to. I don't think it has be either extreme. And Linus is right in the middle."
Visually, we will see Chris with a bit of face fuzz, short and spiky hair (Deb said he looks a little too metrosexual), but overall with a very casual look. Blue jeans and the ubiquitous t-shirt over thermal shirt and hoodie that suits him so well. In two words: Quite handsome. (And just wait till you see his adorable rubber face and his awesome tear ducts in action, because we will see both comic Chris and emotional Chris in this movie.)
The Trailer
As a first glimpse of the movie, iesb.net presented the first trailer in November 2006. Due to restructuring of their website, the trailer cannot be viewed there any longer. However, here's a YouTube version of it. This trailer was also put on the Clerks II DVD.
A second trailer was released in late 2008, you can watch that one here. None of these trailers mention the cancer storyline, but rest assured, it is in the final cut.
The Trivia
So, you might wonder, why on earth, if Linus is supposed to be terminally ill, does he look so darn buff and healthy? Simple answer: Chris was supposed to shoot a movie in which he would be portraying a baseball player (Calvin Marshall—which fell through for him eventually) shortly before he began shooting Fanboys. He started working out, gaining a bit of weight to prepare for that role, but that movie was put on hold, allowing him to go off and do Fanboys instead. In order to play a young man dying of cancer, he tried his best to lose some of the weight again, but maybe he's still juuuust a little too healthy-looking… which will hopefully not be too distracting for his female fans.
Fanboys would not be the last Kyle Newman movie that Chris would work on. They teamed up again for the re-imagining of Revenge of the Nerds, which was also written by Adam F. Goldberg and directed by Kyle Newman. Unfortunately, production on ROTN was cancelled by Fox Atomic in the middle of shooting in November 2006. Chris was supposed to be playing the lead nerd, Max Foster in this R-rated comedy.
Kyle also gave an interview for the guys at iesb.net and collider.com a while ago, and he talked a lot about Fanboys. When he spoke about casting, this is what he had to say about Chris:
"And Chris Marquette is like the heart and soul of the movie, and really early he came up to me, and said, 'I don't have much to do.' And I was like, 'But you're everything. Like, you are the subconscious of the film.' There's this whole internal arc, and he just nailed it, this movie. He's hilarious, but he's also… hopefully it makes people cry at the end."
You should hear Kyle talking about Star Wars. He's really passionate about it. He's a geek (albeit an adorable one). He loves Star Wars, he claims to be the biggest fan on the planet. What he really wants to do with this movie is pay homage to the fans and the fandom.
As to Chris's involvement in the movie, he actually read for two roles when he came onto the project. Kyle wasn't sure if he wanted him to play Eric or Linus. In the end he got to play Linus, and looking back now, Chris admits that he is very glad about that, that he really fell in love with the part.
Chris said about the script that when he read it, he thought the idea and story was very charming, that it was very believable, that it stood out amongst a lot of the teenage scripts that are out there these days.
The History
The movie and its release have a long history. TeeJay has written an article about it that outlines the film's journey, you can read it at www.seeya.at/fanboys to catch up on all the details.
The Dirty Truth
Now, if you've read TeeJay's article linked above or if you already know about all the pushbacks and reshoots and delays, here's a bit more insider info for you that we've put together in the time that we've been following this movie. It starts off in January 2008, when the reshoots had been done and all sorts of rumors were flying around as to how the movie would be changed. It was pretty clear the Weinstein Company wanted to remove the cancer storyline from the movie, so here's what we gathered that we hoped could shed some more light on the real situation:
Chris and Kyle did an online phone interview about Fanboys in January 2008 and they were asked if they could share information about the new scenes and if and how they would affect the storyline of the movie. They didn't give us any specific information, but Chris said they're "changing the movie around a little bit" and Kyle said they shot a few things they were "experimenting with" (and we can only speculate what that is supposed to mean). Also, a few things were shot that Kyle knew the movie needed that he had wanted to do for a long time.
Kyle said the Weinstein Company had aspirations to release it as a larger comedy and we could only hope that the additonal scenes (which surprisingly were not directed by Kyle Newman but by Steven Brill) would mean they were making Fanboys even better than it was before. We all knew there was a reason why Kyle got standing ovations from the 1500+ Star Wars fans at Celebration Europe who watched a rough-cut of the whole movie in summer 2007. And you'd think the Weinsteins wouldn't want to mess with that, right?
We kept hearing the movie would be released in March or April 2008. While at the time that was reasonably good news, other things were going on that do not seem to bode well for the movie. For some strange reason, The Powers That Be had taken over and reshot a lot of footage to remove the whole cancer storyline from the movie. That way, the whole break-in ploy would play like a whimsical stunt.
Fact is that there were test screenings in Burbank, CA in January '08. Both versions of the movie were shown (to different teenage audiences) to see which version would rate better. And from the looks of it, there wasn't an overwhelming outcry to go with the cancer storyline rather than the cancer-free one. Which is just very sad.
In a May 2008 NY Times article about Kyle Newman and a new short film he is going to direct, Fanboys was mentioned:
"Fanboys" has attracted attention in Hollywood because its intended distributor, the Weinstein Company, is embroiled in a dispute with the filmmakers over which version to release. There has been a large effort online among young filmgoers to persuade Weinstein to release the filmmakers' preferred version.
Mr. Newman, in a telephone interview, had encouraging news for the "Fanboys" fans. "I have been brought back into the editing room to work on a final version," he said, adding: "All the key people are back. That's all good."
It indeed came to pass that Kyle was called back to edit the final cut of the movie, which is pretty much a compromise. The cancer story was put back in, but some of the reshot material from 2007 was also kept.
Where the release date was concerned, things finally happened in late 2008 and we now have a truly fixed release date that (fingers crossed) isn't going to moved again: February 6, 2009. But not after the movie had been pushed back again twice–first from September 2008 (as announced at Comic Con in July) to November 2008, and then finally to February 2009.
One thing that a few people have noticed and some are even puzzled about: There is no mention of cancer in any of the official movie synopses or in the new trailer. Well, that's probably because the Weinstein Company is still convinced the movie would play just as well or better without the cancer subplot. Maybe, if the Weinsteins indeed keep their promise and put both versions of the movie on the DVD, we can all judge for ourselves after the it comes out.
The DVD
The DVD comes with a cardboard slipcase that looks exactly like the actual DVD cover except that it's more glossy and some of the colors have a metallic shimmer. Apparently in Canada they had a limited edition where the slipcase had the red poster with the Darth Vader mask.
The DVD has quite a few special features:
….. Deleted Scenes
….. Commentary with K. Newman, E. Cline, A. F. Goldberg, S. Huntington, D. Fogler & K. Bell
….. Disturbances in the Force: A Series of Webisodes
….. The Truth About Fanboys
….. The Star Wars Parallel
….. 4 Fanboys & 1 Fangirl
….. The Choreography
The deleted scenes are pretty cool, all of them from the original cut. Unfortunately, it feels like they could or should have put more of them on there, like the one where Linus throws away his pills or the extended version of the scene where Linus is in the hospital. Chris is in two of the six deleted scenes.
The commentary is fun to watch. You may ask why Chris and Jay aren't part of the commentary, and my best guess is that they were both unavailable when it was recorded. I personally wish that Dan Fogler would have let Kyle finish his anecdontes a little more often instead of butting in with another insignificant, goofy comment. Kyle tried a few times to give background information about what was different in the original cut or why some things were changed and cut, but a lot of the time got interrupted by the actors. Only once do they bring up Stephen Brill, but Kristen quickly intercepts with a, "Keep it positive, guys." And that's that.
The webisodes are probably the best part of the special features. They're seven fun behind-the-scenes pieces that were probably meant to go up online to promote the movie (but never did). The ones that feature Chris most prominently are The Empire Strips Back and Space Balls (One word: ouch!).
The next three features (The Truth About Fanboys, The Star Wars Parallel and 4 Fanboys & 1 Fangirl) are all Making Of-type 5 to 10 minute pieces about the story and characters that are interlaced with interview snippets with the actors. They're very repetitive and use a lot of the same clips from the movie. Chris is in them a few times. However, don't expect The Truth About Fanboys to be what it sounds like. It's not about the story with the different cuts or the controversy surrounding it. It's just another bla-bla, the movie is great, it was fun making it kind of thing.
The Choreography is about the stripping scene in the biker bar and how the actors were coached how to strip dance.
What's most disappointing for the Chris fans is that while all the cast is on the front cover, Chris is the only person whose face is covered up (with a Wookiee mask). The mask was definitely photoshopped on later because we've seen the original photoshoot pictures, and in the one that was used for Chris's body, he's definitely not wearing any mask. It was actually Dan who wore the Wookiee mask in some photos…
The Links
….. Information about the movie
….. A Short History of Fanboys
….. Stop Darth Weinstein campaign
….. Movie trailer (teaser trailer from 2006)
….. Movie trailer (theatrical trailer from 2008)
….. Disturbances In The Force (behind the scenes video)
….. IFC News snippet about the movie (video clip)
….. Video interview with Chris on the set (movieweb.com)
….. Video interview with Chris and Sam Huntington (collider.com)
….. Video interview with Chris and Sam Huntington (joblo.com)
….. Video interview with Chris, Sam Huntington and Dan Fogler (comingsoon.net)
….. Video interview with Chris, Sam Huntington and Dan Fogler (movieweb.com)
….. Video interview with Chris, Sam Huntington and Dan Fogler (www.artistdirect.com)
….. ideo interview with Chris and Dan Fogler at the premiere (www.collider.com)
….. Print interview with Chris (canmag.com)
….. Print interview with Chris, Sam and Dan (mania.com)
….. Print interview with Chris and Sam (moviesonline.ca)
….. Print interview with Chris and Sam (craveonline.com)
….. Interview with Kyle Newman about the movie's journey
….. Reelzchannel Dailies video about online protests
….. Stills, screencaps and more visual goodies from the movie
….. Discussion about the movie on the message board