or How Chris Played The 7th Incarnation Of Gregory Hudson
….. by TeeJay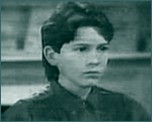 The Plot
Another World is a soap opera that played on NBC for 35 years. I don't think there's an easy and brief way to summarize the plot of the series.
I'm sure wikipedia's one sentence summary doesn't do it justice: Set in the fictional town of Bay City, the show in its early years opened with announcer Bill Wolff (1964-1987) intoning its epigram, "We do not live in this world alone, but in a thousand other worlds," which Irna said represented the difference between "the world of events we live in, and the world of feelings and dreams that we strive for."
TV.com describes it as: For thirty-five years, Another World was a much loved part of the NBC daytime lineup. Fans followed the Frame, Cory, Hudson, and many other families through trial and tribulation, pain and pleasure.
For anyone wanting to know more, there is a comprehensive article about the show to be found on memorabletv.com.
The Character
Gregory John Hudson. Chris was the 7th (and last) actor to portray Gregory on the show. He played the character from October 1996 to July 22, 1997. Gregory was born in an abandoned building in 1991.
Source: AWHP
The Credits
Series Premiere: 5/4/1964
Series Finale: 6/25/1999
Since the show ran for 35 years and the cast changed pretty much constantly, it doesn't make a lot of sense to list everyone here. For more information, you can visit TV.com, wikipedia.org or the Another World Homepage.
The Interview
In 2004 or 2005, Chris gave Soap Opera Digest an interview where he was asked about his role on Another World and what he remembered about it:
Digest: Yeah, you were pretty young when you were on [AW]. What do you remember about it?
Marquette: I remember everyone being really nice to me. I also remember the fans and how devoted they were. I was in this storyline where my character ran away, then he was found, but he didn't want to come home. I don't remember why, but he was being really bratty [laughs]. After that, what was really weird was that I got a bunch of letters from fans saying, "How dare you do that to so-and-so!" They sounded very angry. But then at the end, the person would write, "P.S. You're a great actor and I loved your scene with so-and-so."
Digest: Soap fans are very passionate about the characters.
Marquette: They really are. My mom watched ALL MY CHILDREN for about 25 years before my brother [Sean] came on, and she watched ANOTHER WORLD for about three years before I came on, so for her to have kids on her two shows was crazy. She was like, "I thought I was the only one who got wrapped up in [soaps]," but it turned out she wasn't. I don't think the letters were vicious, though. My mom told me that I should take them as a compliment, which I did. I was flattered that they wrote to me.
Digest: Was it difficult doing a soap at such a young age?
Marquette: It was great because up until then, most of my work had been doing TV guest spots here and there. But then I was cast as part of this long-running core family, the Hudsons, and everyone there just really accepted me. I was a little confused, though, that I was replacing an actor who was a few years younger than me. I was about 11 when I came on, and I was like, "Wait, this kid I'm replacing is only 7 or 8." Then the fans would ask me about that, too, and I wouldn't know how to answer. They'd be like, "How do you explain [the age difference]?" and I'd be like, "I don't know! I can't explain it, either!"
Digest: Soaps age characters all the time. Sean's AMC character, Jamie, is now a young man in his 20s [and being portrayed by Justin Bruening].
Marquette: You're kidding — no way!
Digest: He's all grown up now.
Marquette: Wow, that's unbelievable. I didn't realize that they aged characters so much on soaps.