The movie Faith Based that Chris has a small role in, has now been released. Take a look at the trailer if you want to get a first glimpse (and it actually features Chris).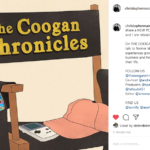 First of all, Happy Birthday, Chris! Turning 36 today. 🙂
Second of all, check it out, new podcast series! Quoted from Chris's own Instagram post:
Thrilled to share a NEW PODCAST my buddy AJ and I...Read More »
---
Chris's pal, and Fanboys co-star, Mr. Dan Fogler has interviewed Chris for his awesome podcast! You can catch the episode with Chris on YouTube.
By continuing to use the site, you agree to the use of cookies. You can find more information about cookies required by this website in our <a href="https://chris-marquette.com/housekeeping/data-privacy/" style="color: #cccccc">Data Privacy Statement</a>. ➜ more information
The cookie settings on this website are set to "allow cookies" to give you the best browsing experience possible. If you continue to use this website without changing your cookie settings or you click "Accept" in the cookie banner, then you are consenting to this. Please refer to the Cookies section in our Data Privacy Statement to learn how you can opt out of using cookies.